My previous iPhone case was nice but added a lot of bulk to an already chunky phone.

When my hubby brought this one home, I fell in love.
The SHIELD Apple 3G GS iPhone Shield Polycarbonate Slim Fit Case
(Copy and paste this mouthful into your search engine and you'll find a whole bunch of them.)
What do I like?
It's thin, has a soft feel (although it's quite hard), and the surface is not completely smooth, which reduces the chance of your phone slipping out of your hand.
There's a cutout on the back which allows the Apple logo to show. Silly I know, but I like it.
The top and bottom slots allow unrestricted access to all accessory ports.
It comes in 11 colors. Mine is a lovely, girly shade of pink.
It's very inexpensive - around $10. I may actually get one to match every outfit. (Just kidding)
What don't I like?
So far, nothing.
Side view: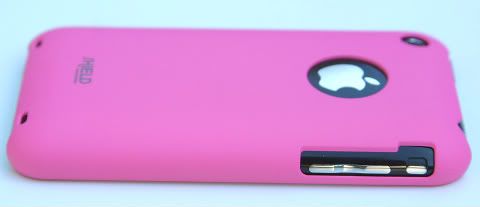 Bottom:
Top: