This is my go-to quick banana bread recipe. When the bananas are over-ripe and time is at a premium, it's a life saver. Not totally homemade, but yummy!
Banana Nut Bread
(from Real Simple Magazine - November 2004)
1 box yellow cake mix
1 large package instant Banana Cream Pudding
1/2 cup water
1/2 cup canola oil
2 ripe bananas, mashed
4 eggs
1 cup chopped pecans/walnuts (optional)
Add all ingredients except nuts to mixing bowl and mix according to cake package instructions.
Add nuts and slowly mix in until just incorporated.
Pour into 2 large or 4 small greased loaf pans.
Bake at 350 degrees Fahrenheit (180 degrees Celcius) for 40 to 45 minutes or until cooked all the way to the center.
Let cool in pans for 5 minutes before tipping out.
Ingredients.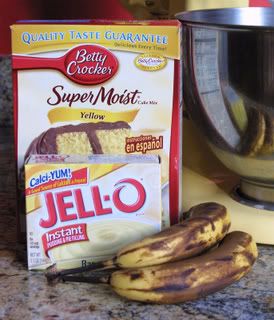 Mash, mash...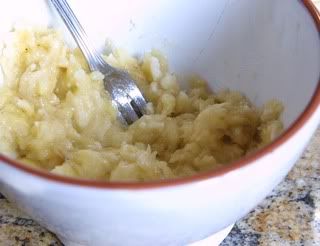 Grease the pans. I just use spray.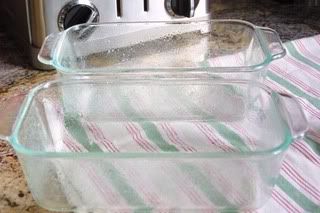 Chop the nuts. I love this chopper because it contains the mess.
Mix. Love my KitchenAid!
How do I ensure that all loaves are the same size? Weigh them!
Yum!