Yum, yum, yum!
These are not diet or budget friendly but, oh my! So good!
Tomato & Goat Cheese Tarts
(Recipe by the Barefoot Contessa in House Beautiful Magazine)
Makes 4 tarts
3 tbs good olive oil, plus more for brushing
4 c thinly sliced yellow onions (2 large onions)
3 large garlic cloves, cut into thin slivers
Kosher salt & freshly ground pepper
3 tbs white wine
2 tsp minced fresh time, plus sprigs for garnish
1 package (17.3oz) puff pastry sheets, thawed overnight in the refigerator. Use cold.
4 tbs grated Parmesan cheese
4 oz garlic & herb Montrachet goat cheese
1 large tomato, cut into 4 (1/4"-thick) slices
3 tbs julienned basil leaves
2 oz Parmesan cheese, shaved with a vegetable peeler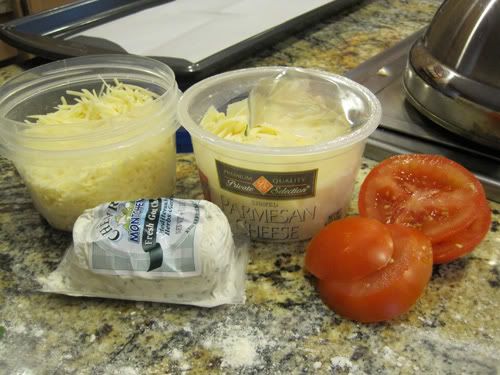 Preheat the oven to 425 degrees Fahrenheit. Line a sheet pan (or two - see notes) with parchment paper.
Heat 3 tbs oil in a large skillet over medium-low heat and add the onions and garlic. Saute for 15 to 20 minutes, stirring frequently, until the onions are limp and there is almost no moisture remaining in the skillet.
Add 1/2 tsp salt, 1/4 tsp pepper, the wine, and thyme and continue to cook for another 10 minutes, until the onions are lightly browned. Remove from the heat.
Unfold each sheet of puff pastry on a lightly floured surface and roll it lightly to an 11" x 11" (see notes) square. Using a circular object as a guide, cut two 6" circles from each sheet of puff pastry.
Using the tip of a sharp paring knife, score a circle 1/2" inside the edge of each pastry. Prick the pastries all over with the tines of a fork and place them on the sheet pan.
Sprinkle a tablespoon of the grated Parmesan on each round, staying inside the scored border.
Place 1/4 of the onion mixture on each circle, again staying within the scored edges.
Crumble 1 oz of goat cheese on top of the onions.
Place a slice of tomato in the center of each tart.
Brush the tomato lightly with olive oil and sprinkle with basil, salt, and pepper.
Finally, scatter 4 or 5 shards of Parmesan on each tart. If the pastry is warm, chill for 15 minutes.
Bake for 20 to 25 minutes, until the pastry is golden brown.
Garnish each with a sprig of thyme and a drizzle of olive oil. Serve warm.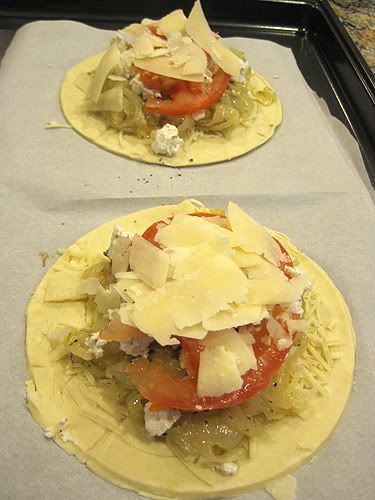 NOTES:
Four pastries will not fit on one sheet pan - at least not the ones I have. I used two, and I have two ovens, so it worked out just fine. If you have a convection oven, you can put two sheet pans in there with no problem. If you don't, you may have to bake two at a time, and keep the others in the fridge until you're ready to put them in the oven. Or buy a large sheet pan, which I think I'm going to do anyway.
I did not garnish these with sprigs of thyme, but if you're making them for guests you can.
Remember to take the pastry out the night before.
Parmesan cheese off the shelf next to the pasta is NOT grated Parmesan cheese. You need to find it in the deli, next to the other cheese.
Don't skimp on the cooking of the onions. They are the most important part of this dish, in my opinion, and need to be sweet and yummy.
I couldn't find Montrachet goat cheese and used another brand, so I think as long as it's garlic & herb it'll be just fine.
You can buy Parmesan cheese already shaved.
An 11" x 11" square will not cut into two 6" rounds (duh!) so I cut one and then pressed some of the cut-off pastry onto the remaining bit to make it big enough.
You HAVE to score the pastry border and keep the toppings inside of it if you want a puffy look.
I did not drizzle extra olive oil over the tomatoes or the top of the tarts. Puff pastry is fatty enough already, thank you.
Enjoy!